Calling all warriors
Welcome to Axe Lair
Enter the Lair anytime! Whether you're seeking a fun friends outing, corporate team
building, a unique date, or solo adventures; we've got you covered. Sign a waiver, learn
the skills, then proceed with the fun! Our trained staff are always available to help.
Walking in? Call ahead to check availability OR skip the wait and book online.
Calling all Warriors
WIELD AN AXE AND HONE YOUR SKILLS
Have you ever wanted to go bowling but with sharp objects? Us too. With our new projected targets, we have updated our lanes to be more interactive and competitive
1 Hour Session
No Experience Necessary

Good for small groups and beginners

4-5 people per lane

Ages from 12-17 must be accompanied by an Adult (Ages 18+)

CLOSED TOED SHOES REQUIRED
2 Hour Session
Save $10 for booking back to back hours!

Perfect for returning throwers

4-5 people per lane

Ages 12+ to throw, 12-17 MUST be accompanied by an adult

Best choice for large parties

CLOSED TOED SHOES REQUIRED
Walk-ins available
Testimonials
"Great atmosphere and perfect for a girls night out or even a one on one game with a spouse or friend. I highly recommend everyone tries axe throwing at least once! Once you try it, you will be hooked!"
– Jennifer Yandell
"This wasn't very easy! But who cares! It was a TON of fun! Great way to burn (throw) off some stress!"
– Lisa L. Crane
"We had a family outing for 10 of us and we booked 2 hours and had a blast. Can't wait to do it again. Staff were amazing, friendly and so patient showing us the ropes."
– Bhavini Feldman
"Amazing place ever! Boyfriend and I had a blast! Social distances and wear mask humble people there too!"
– Alexandra Mejia
"Lots of fun. Staff is very helpful. Took my wife for our anniversary and she loved it!"
– Santiago Oleas-Gonzalez
"Axe-tastic experience for the whole family. Reservations make it much better. Get there 15min early. We will be B-axe-k soon! "
– Erik Milham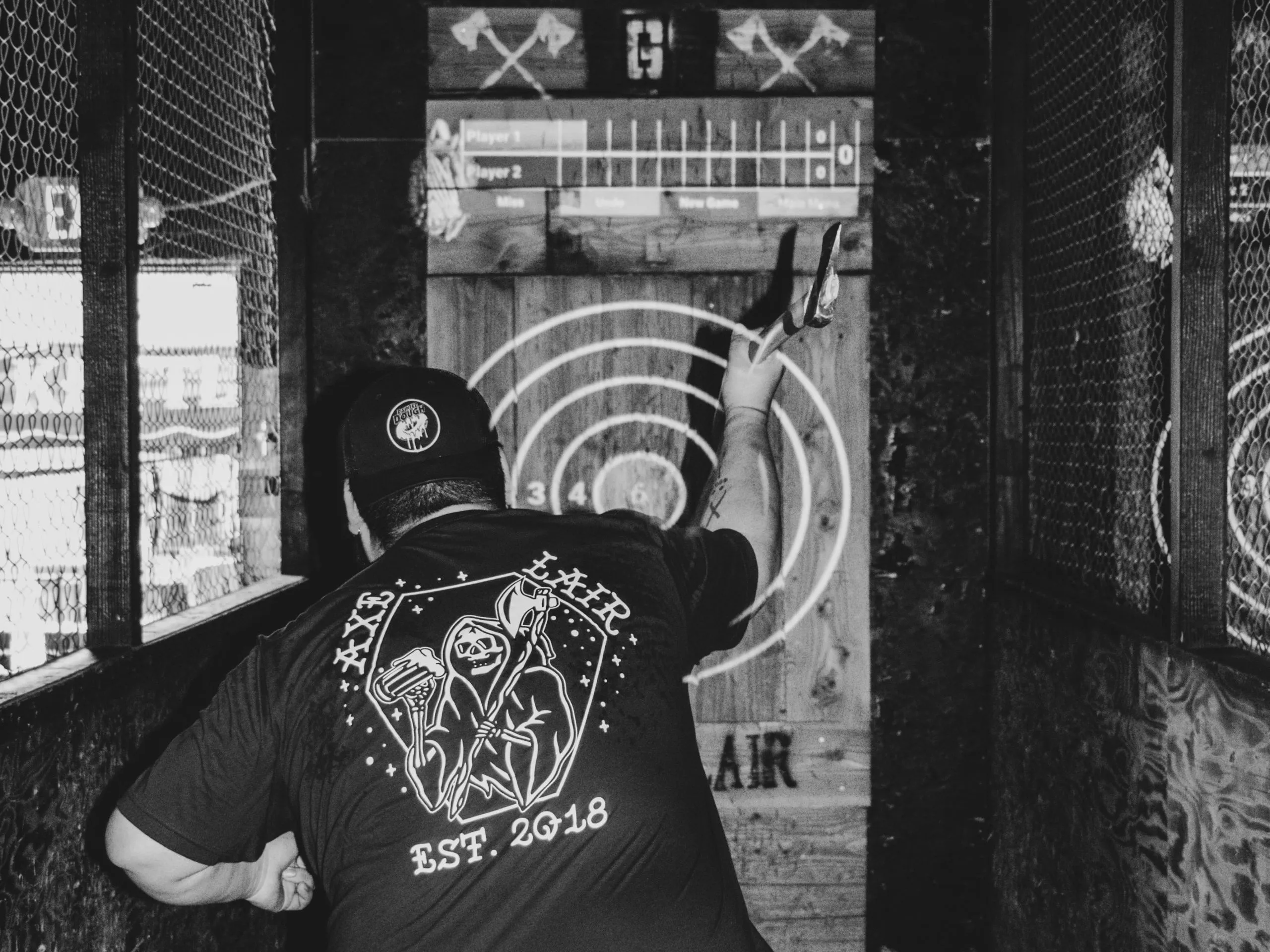 Axe Throwing
Walk ins, groups, league competition, glow in the dark axe throwing.
Private Parties
Schedule a private party for your office or we can come to you with our mobile axe throwing trailer!
Gallery
See all the amazing throws!
About the axe lair
Who we are, and our story.